Chef's Blog
The Best Hors D'Oeuvres for Your Next Party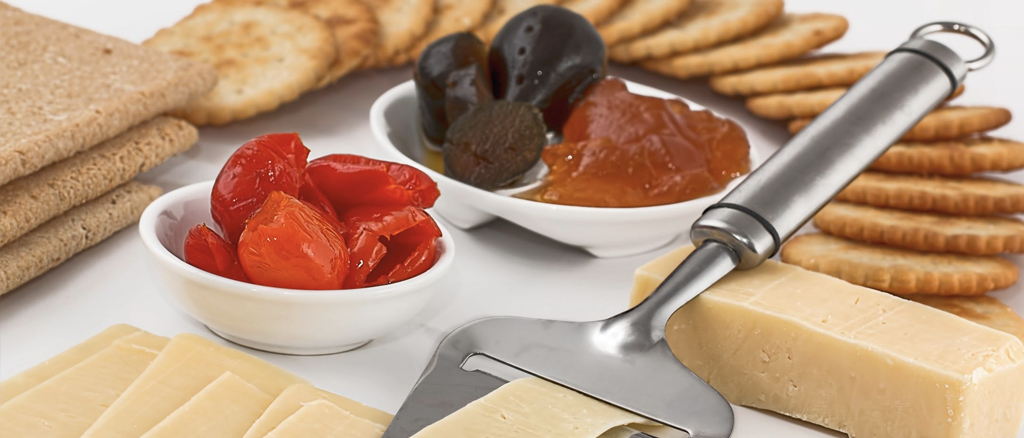 The well-known phrase, hors d'oeuvre, literally translates as "outside work", probably because the great French chefs of old considered themselves far too grand to prepare them, and preferred to sub-contract the task.
But the attitude is outdated. A good hors d'oeuvre, first course or starter is now widely regarded as a very important element of a successful menu.
As part of a meal of several courses, the hors d'oeuvre should be enjoyable to the palate while stimulating rather than satisfying the appetite. At a party, on the other hand, a buffet of several hors d'oeuvres can combine to form a full meal in their own right.
So here's a selection of versatile, tasty and easy to prepare ideas for party hors d'oeuvre.
Bruschetta
Bruschetta is one of the most popular hors d'oeuvres, not just because the traditional combo of bread, olive oil and tomato is irresistible to most people, but because there's an almost unlimited variety of alternative and additional toppings you can use.
Mozzarella
Add flavor to the tomato topping with some melted mozzarella and you have a sure-fire winner for most guests.
Avocado
Mashed avocados, seasoned to taste, make a great topping for bruschetta or regular toast. Enhance with crabmeat for a more substantial and flavorful starter.
Devilled Eggs
Simple but delicious. Just spread egg mayonnaise flavored with mustard and vinegar and on bruschetta or regular toast with a sprinkling of paprika for color.
Apart from bruschetta, any of the above ideas will also work with focaccia or crostini. But if you want to be a bit more ambitious why not try blinis?
Blinis
A blini is a saucer sized traditional Russian pancake made with wheat or buckwheat flour which lends itself very well to any number of different toppings.
Smoked salmon with crème fraiche
A thin slice or two of smoked salmon, or trout if you prefer, seasoned with black or cayenne pepper, is the ideal complement to a blini. Add a spoonful of crème fraiche and a little dill and you have a great tasting appetizer.
If expense is not an issue, blinis are also traditionally excellent with caviar, but truth be told they go well with just about any sweet or savory topping you can think of.
A variety of toppings
Olives, mushrooms or eggs; vegetables, fruits, meats or cheese, the choice is yours. And once you've made a suitable number of blinis for your party it's a simple matter to finish them with a variety of different toppings to suit the different tastes of your guests.
Both bruschetta and blinis offer the ideal choice of party hors d'oeuvre; simple and quick to prepare, yet tasty and appetizing. But they're just two of the many options available.
Whatever the great chefs of the past may have thought, creating the perfect hors d'oeuvre is a fascinating aspect of entertaining in which you're limited only by your own imagination.
We'd love to help you come up with a custom menu for your next party! Simply contact us today :)
---
‹ Back
Comments ():