Mobile Kitchen
Chef's Food Truck & Mobile Kitchen Menus: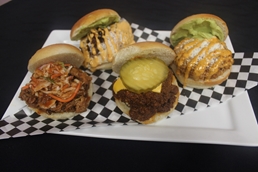 Looking to book or visit our food truck? Here's a sample of what you can find on our food truck!
This is just an example of one of the menus, as is with all of our menus, we'll gladly custom cater a menu to your event!
View our latest Food Truck/Mobile Kitchen menus here!
Here's a sample menu of what we have on the average day at the food truck when serving the public!
Chicken Avocado Slider
avocado spread, bacon, cotija cheese, pico de gallo, chipotle aioli
Black Bean & Corn Fritter Slider
avocado spread, cotija cheese, pico de gallo
Chef's Burger Slider
pickles, meat hot sauce, american cheese
BBQ Pulled Pork Slider
with apple slaw
Chipotle Ranch Kettle Chips
Chef's Trash Plate
any two sliders all over mac salad and kettle chips/fries
Chef's Salad
grilled chicken or black bean & corn fritters, lettuce, avocado, pico de gallo, cotija, bacon, chipotle aioli
Loaded Pulled Pork Fries
cheese sauce, bacon, pulled pork, BBQ sauce