Wedding Catering Menus
Planning your big day? We'd be honored to be apart of it!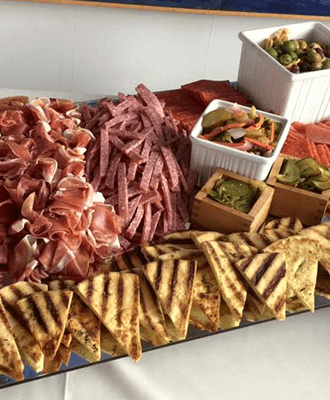 We've helped make memorable weddings for quite some time now and regardless of the size or location of your wedding, we'd love to come up with a menu that is perfect your big day.
Here's a sample wedding menu from a wedding recently catered in Rochester, NY. We'd love to show you more sample menus we've created as well.
Know what you want? Inquire today >
Hors D' Oeuvres:
Stationed
Charcuterie Platter
flatbread and Cured Meats, Pickled Vegetables and Olives
Domestic and Imported Cheese
display with Fruit and Nut Compote
Hand Passed
Beef and Blue with Arugula on Crostini
Vegetable Spring Rolls with Hoisin and Chili Garlic Sauce
Dinner:
Stations
Carving Station
Beef Tenderloin and Ham
with all the condiments
Macaroni & Cheese Station
top your macaroni with Lobster, Buffalo Chicken, or Bacon
Buffet
Chicken Asiago
pan seared chicken breast with artichokes and roasted red peppers with lemon chardonnay sauce
Lemon Thyme Braised Pork Shoulder
Southwestern Marinated Charred Seasonal Vegetables
Butternut Squash Salad
with crasins, goat cheese and house made vinaigrette
Italian Style Greens and Beans
slow braised escarole and cannellini beans in a garlic chicken broth topped with parmesan cheese
Mixed Green Salad
with ranch and balsamic & housemade croutongs
Artisan rolls with Butter
Dessert/ Coffee:
Coffee Service Station
Cookies and Milk Station
Chocolate chip, Peanut butter, and M&M cookies
Hosted Bar
We provide full bar services - contact us for more information