Chef's Blog
10 Mouth-Watering Catering Ideas for Your Next Rochester, NY Event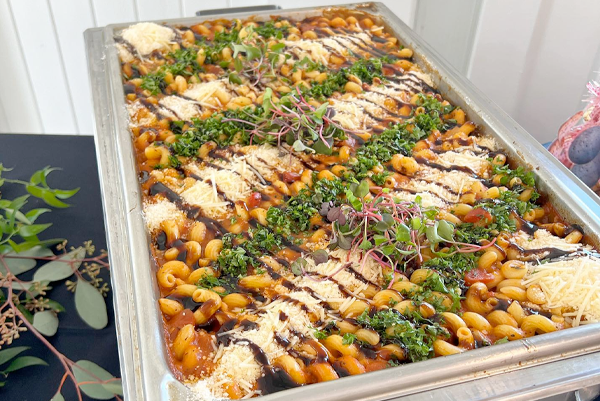 If you're planning an event in Rochester, NY, one of the most important elements to consider is catering. Good food can make or break an event, so it's essential to choose the right dishes to keep your guests happy and satisfied. With that in mind, here are 10 mouth-watering catering ideas for your next Rochester, NY event:
Garbage Plate Bar
Rochester is known for its famous "garbage plates," which typically include a mixture of macaroni salad, home fries, and ground beef or hot dogs, all smothered in a meat sauce. Create a garbage plate bar where guests can customize their own plates with different proteins, sauces, and toppings.


Finger Lakes Charcuterie Board
The Finger Lakes region of New York is home to some fantastic artisanal cheeses, meats, and wines. A Finger Lakes charcuterie board can include local favorites like goat cheese, prosciutto, and Riesling.


Vegan Comfort Food
For guests who are vegan or vegetarian, serve up some hearty comfort food that's free of animal products. Vegan mac and cheese, chili, or shepherd's pie can be just as delicious as their meat-filled counterparts.


Seafood Boil
A seafood boil is a fun and interactive way to serve up fresh seafood, corn on the cob, and potatoes. Offer a variety of seafood options like shrimp, crab legs, and crawfish, and let guests dig in with their hands.


BBQ Buffet
Who doesn't love BBQ? A buffet-style spread with ribs, brisket, pulled pork, and all the fixings is sure to be a crowd-pleaser.


Build-Your-Own Taco Bar
Set up a build-your-own taco bar with all the classic fixings like shredded lettuce, diced tomatoes, guacamole, and salsa. Offer a variety of protein options like chicken, beef, and tofu to accommodate all dietary restrictions.


S'mores Station
For a fun dessert option, set up a DIY s'mores station with graham crackers, marshmallows, and chocolate bars. Guests can toast their marshmallows over a fire pit or portable burner.


Craft Beer and Cheese Pairings
Rochester has a thriving craft beer scene, so why not pair local brews with artisanal cheeses? Offer a variety of beer styles like IPAs, stouts, and lagers, and pair them with complementary cheeses like cheddar, brie, and blue cheese.


Cider and Donut Bar
Another Rochester specialty is apple cider donuts. Set up a donut bar with different toppings like cinnamon sugar, powdered sugar, and glazes, and pair them with hot apple cider.


International Street Food
For a worldly twist on traditional catering, offer a variety of international street foods like falafel, banh mi, or empanadas. Guests can sample different flavors and cuisines from around the world.
These are just a few of the many catering ideas that can make your Rochester, NY event a success. With so many delicious options, there's sure to be something to satisfy every palate.
---
‹ Back